We're Getting Mutants in the MCU - The Loop
Play Sound
Eliza Hutton is the former fianceé of late American actor and martial artist Brandon Lee, who died in 1993 prior to their wedding. She has worked in Hollywood in various roles including in casting, story production and development. She was due to marry Brandon Lee on April 17, 1993 in Mexico at sunset.
Early Life
Eliza Hutton was born and raised in the Kansas City, Missouri area. She moved to L.A in the 1980s after college.
Career
Eliza first entered the world of entertainment in the 1980s working for a number of producers. Her first known credit was as a casting assistant for the 1989 film Arena. In 1990, Eliza was an assistant to Renny Harlin for the films Die Hard 2 and Adventures of Ford Fairlane and continued to work for Harlin when he moved to Fox. In 1991, Eliza started working as a story editor for Kiefer Sutherland's Stillwater Productions, also based at 20 Century Fox. She travelled with Lee during the world Rapid Fire tour. Brandon Lee while he promoted Rapid Fire. While in Sweden, Eliza and Brandon filmed a cameo appearance in the film Sex, Lies and Video Violence as a couple waiting to get into a club. She unofficially worked on The Crow as Brandon's assistant and is credited as such in the film's closing credits.
After Brandon's death, she worked as a casting assistant on Dill Scallion and later returned to work for Kiefer Sutherland.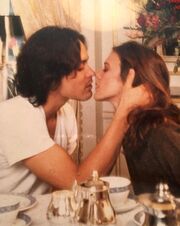 She continues to work in the film industry in L.A.
Personal Life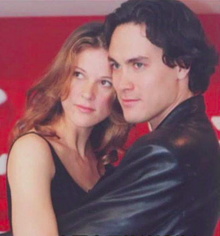 Eliza met Brandon while in Renny Harlin's office in 1990 while she was working as Renny's assistant. Harlin and Lee shared the same agent at the time. Prior to their relationship, Brandon had been a confirmed bachelor. Eliza and Brandon started dating shortly thereafter. The couple moved in together in 1991 and at the time of his death, the couple lived on Benedict Canyon Drive in Beverly Hills. At Brandon's request, Eliza travelled with him to promote Rapid Fire around the world. While on the press tour, Brandon proposed in Venice, Italy.
Brandon and Eliza had two rescue cats, one of which was Kato, named after Bruce Lee's character from The Green Hornet and the other was called Mushroom. Eliza and Brandon had planned to get married on April 17, 1993, in Ensenada, Mexico at sunset. Brandon was buried in Seattle, WA on April 3, 1993.
Eliza was on set with Brandon frequently on what would be his last film, The Crow, which was being filmed in Wilmington, North Carolina. She was eventually credited as being his on-set assistant. Towards the last few days of filming for The Crow, Eliza had returned to California to prepare for her wedding to Brandon. Eliza was in California when she received word of Brandon's accident on March 31, 1993, and immediately flew to his bedside in North Carolina. She was by his side when he was pronounced dead at 1:03 pm, later that same day she was the one to break the news to Brandon's mother and sister when they arrived.
Her would-be-sister in-law, Shannon Lee has said that they remain close as are their families.
She married 10 years after Brandon's death, having taken many years to deal with his tragic death and had a daughter, who is close to Shannon Lee's daughter, Wren Kealser. Eliza later divorced and continues to live in L.A.
Trivia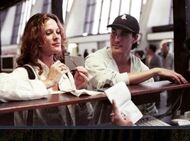 Eliza is 5'10.
Eliza is the same star sign as Brandon.
Grew up in Missouri and was the daughter of a local politician.
Eliza is referred to as his widow by Brandon's family and close friends.
During most of her relationship with Brandon, she called herself Lisa but reverted to her birth name after their engagement.
Brandon's mother Linda Lee Cadwell described the pair as a "wonderful match" in the family approved documentary on Brandon Lee's life.
The Crow was finished after Eliza and Brandon's mother asked producers to complete it as a tribute to Brandon Lee's hard work.
Eliza petitioned for tougher gun safety regulations on film sets after Lee's death.
Eliza has worked for her close friend Kiefer Sutherland.  
Eliza told Brandon that his character Eric in The Crow was "A story about justice for victims who never got a chance to receive it".
The Crow was dedicated to Eliza and Brandon.
Eliza was on set of The Crow supporting him in his role that when the film was released she was credited as his personal assistant.
Brandon quoted a passage from the book Sheltering Sky during press interviews on the set of The Crow. This quote had been placed on their wedding invitations. It was later used by the family on his gravestone.
When Brandon Lee was asked who he would like to see if he came back like his character Eric Draven, his answer was always "Eliza".
Brandon said in interviews that he understood the love between the characters Eric and Shelly in The Crow because he had found true love with Eliza who he referred to as his "immortal soul mate."
Brandon proposed to Eliza while on the Rapid Fire press tour in Venice, Italy on bended knee.