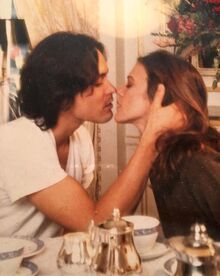 Eliza Hutton is the former fianceé of late American actor and martial artist Brandon Lee, who died in 1993 prior to their wedding. She has worked in Hollywood in various roles including in casting, story production, and development. Eliza was credited as being Brandon's on-set assistant due to being on the set of The Crow.
Eliza first entered the world of entertainment in the 1980s working for a number of producers. Her first known credit was as a casting assistant for the 1989 film Arena. In 1990, Eliza was an assistant to Renny Harlin for the film Die Hard 2. She continued to work for Harlin when he moved to Fox. In 1991, Eliza started working as a story editor for Kiefer Sutherland's Stillwater Productions. She travelled with Lee during the world Rapid Fire tour. Brandon Lee while he promoted Rapid Fire, both Eliza and Brandon filmed a cameo appearance in the film Sex, Lies and Video Violence, as a couple waiting to get into a club. In 1993, Eliza often accompanied Brandon on the set of what would be his last film, The Crow where she supported him as his assistant on set. She was on the set so frequently she was credited as the assistant to Mr. Lee. Today, Eliza continues to work in Hollywood.
Eliza is 5'10"
Eliza's nickname is Lisa which was written on her and Brandon's wedding invitations.
It has been said that Eliza showed up to Brandon's memorial (not the funeral) service wearing her wedding dress.
Brandon's family and friends often describe Eliza as being Brandon's widow despite him dying before their wedding day.
Brandon described her in interviews on the set of The Crow as "gorgeous, wise and wonderful" and told James O'Barr that she was his twin-flame.
Eliza accompanied Brandon's mother and sister, Linda and Shannon Lee, at a ceremony that awarded Bruce Lee a star on the Hollywood walk of fame. 
Eliza worked with Kiefer Sutherland, a close friend, for many years. She introduced Sutherland and Lee. 
Linda Lee Cadwell said that Eliza "will be a member of my family forever."  
Brandon was a confirmed bachelor when they met and quickly changed his perspective. He told his manager the day he met her, "Have you ever met anyone in your life where you just say hello and you hope that they will be in your life for the rest of your life? Well I met a girl like that today."  
Eliza told Brandon that his character Eric in The Crow was "A story about justice for victims who never got a chance to receive it."
The Crow was dedicated to Eliza and Brandon.
Eliza was close friends with Arianne Philips, the costume designer on The Crow.
Eliza is close friends with Shannon Lee, her would-be sister-in-law.
Brandon's mother Linda said the pair were so excited about their future marriage and wanted to start a family right away.
Eliza is intensely private and has always refused media requests. Instead, she has chosen to keep her memories of Brandon between them. Shannon Lee commented that she has the "utmost respect" for her and how she conducted herself after Lee's death.
Community content is available under
CC-BY-SA
unless otherwise noted.